Due to stringent IT budgets, most businesses are looking to outsource application development, management, and related services. This is where a strong knowledge partner like Epicenter can make all the difference. To ensure our clients have an edge over their competitors, Epicenter continuously redefines its offerings across Application Development, Application Maintenance and Support. The Epicenter advantage lies in its strategic combination of technical prowess, deep domain understanding and expertise, consulting capabilities, intellectual property (IP) assets, and methodologies that deliver significant and tangible value to clients' business.
For innovations, IT organizations need to focus on modernizing legacy systems while enhancing existing system and applications. Automating enterprise processes plays a key role in enabling agility. To deliver on the expectations from business, IT departments must be able to utilize and manage large pools of historical organizational knowledge as well as business intelligence stored in systems, machines, and people.
Combined with DevOps for agile execution, Epicenter ADM helps clients meet their IT goals and strategic priorities while enabling innovation that drives dynamic top-line growth.
Epicenter helps businesses accelerate time-to-market by reducing time spent across all stages of the application development lifecycle through automation, IPs, open source, and licensed third party tools. By leveraging the Epicenter Agile methodology, enterprises benefit from shortened development lifecycles and faster project completion. Further, the Epicenter DevOps team provides continuous support throughout the project with continuous enhancements and milestone measurement, thereby improving business performance.
Application Maintenance and Support
Epicenter Application Maintenance and Support is a new generation offering that brings machine learning together with the deep knowledge of an organization to drive automation and innovation. It enables clients' business to continuously reinvent system landscapes and achieve IT goals that align with business needs. By aligning IT with business value, we help clients push the envelope beyond cost and quality.
Epicenter Domain Consulting for application engagement delivers end-to-end services including strategy definition, implementation and operations. We offer cutting-edge methodologies, tools and accelerators along with strong techno-functional capabilities across development, testing, maintenance, support, and implementation.
As a technology leader, Epicenter Technology Consulting offers in-depth knowledge and implementation expertise in application development technologies. Epicenter provides clients with a dedicated workforce proficient in technologies such as agile delivery, cloud-based engineering, micro services, Internet-of-Things (IoT), open source.
Open Source Development and Migration
We partner with you to design, adopt and govern open source technologies in your IT environment. Our suite of solutions and services on open source have helped businesses accelerate their time to market by 40% and bring down cost by nearly 70%.
Enterprise IT Mobility Solutions & Services
Epicenter combines the latest mobile technologies, methods of engagement and system integration to deliver results that matters and business value that lasts beyond a few business cycles.
We offer a complete spectrum of services from envisioning and business consulting to mobile-based business solutions, intellectual property-based mobile technology solutions, mobile technology services (mobile application development and maintenance, mobile testing services) and industry-focused mobility solutions.
We help you realize business outcomes from mobility with a holistic approach:
Strategy: Use mobility as a strategic business differentiator.
Business: Define business models around mobile technologies.
Technology:
Address challenges associated with managing investments around rapidly evolving mobile technologies.
Harness our engineering prowess and mobility centers of excellence to create novel solutions based on your specific requirements. Or choose from one of our solutions to tap new consumer segments and break into new markets.
Epicenter mobility solutions will help you create new efficiencies with mobile-driven business processes. You can realize these efficiencies faster with our pre-built micro apps and components, which reduce your time to market.
Offerings:
We offer a complete spectrum of services — from envisioning and business consulting to mobile-based business solutions, intellectual property-based mobile technology solutions, mobile technology services (mobile application development and maintenance, mobile testing services), and industry-focused mobility solutions.
Envisioning services:
Imagine and realize the next-generation mobile enterprise with envisioning and advisory services from Epicenter
Today, most companies have implemented one or more mobility solutions for their enterprise. Yet, the capabilities of latest devices far exceed the basic potential that were used as a benchmark for use cases, especially in the enterprise context. The reason for this discrepancy is that majority of enterprises do not have a concrete mobility strategy. Most of them have adopted an ad-hoc approach to mobility, geared at solving an individual problem rather than taking a holistic approach.
To leverage the power of mobile devices and enhance their organizational effectiveness and efficiency, companies need to adopt a comprehensive outlook to mobility. Epicenter envisioning and advisory services for mobility helps companies strategize, design, plan, and harness the disruptive potential offered by mobile devices to make a positive impact to their enterprises.
Offerings:
We offer a complete spectrum of services — from envisioning and business consulting to mobile-based business solutions, intellectual property-based mobile technology solutions, mobile technology services (mobile application development and maintenance, mobile testing services), and industry-focused mobility solutions.
Business solutions:
As mobile devices become the main mode of accessing enterprise data, enterprises need end-to-end solutions addressing a particular business function / process, tailored around mobile devices. Epicenter provides business solutions to address challenges in mobility, and have a meaningful impact on growth profitability, and asset efficiency of enterprises.
Technology solutions:
Technologies based on mobile devices are evolving at an unprecedented pace. With shrinking application lifecycle, the need of the hour is to have readymade technology solutions for every need, which can be deployed with minimum customization efforts.
Mobile Operating Systems:
Cloud, mobile, social and big data have been the driving technologies behind digital transformation at most companies worldwide. In addition, digital initiatives are driving higher spend on quality. As digital transformation gains momentum, the need for speed-to-market is felt severely by both business and IT. To achieve that pace and flexibility, organizations are adopting agile methods and
DevOps principles. In addition, there is an emerging need to have testing teams shift-left and be well-integrated with development teams to ensure that that enterprise agility is demonstrated in every aspect.
To offer the dual advantage of a team, which can integrate and work effectively with development teams without losing the independence that we offered so far, Epicenter Validation Solutions (EVS) is transforming itself to become the best QA partner, bringing innovation and business value in everything we do.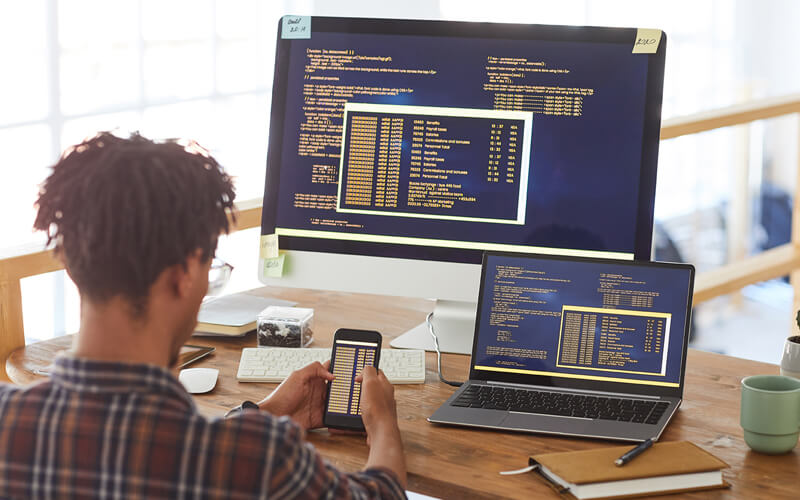 Functional Testing
Epicenter Functional Testing Methodology is well structured and easily adaptable. It introduces testing early in the software development life cycle (SDLC) to identify defects at the outset.
Regression Testing
Regression Testing services at Epicenter are based on the principle of achieving more with less – providing maximum test coverage with minimum number of test cases, leading to minimal cost of appraisal and risk.
QA Consulting
To ensure a risk-free and value-driven delivery, it is critical that organizations define and implement tools and technologies in line with the organization's business goals and aspirations. Epicenter QA Consulting provides a comprehensive approach to testing and quality assurance, encompassing aspects of enterprise-wide QA strategy, maturity assessment, QA tools, and infrastructure strategy.
Performance Testing
New technology trends such as social, mobile, cloud, analytics, and the Internet of Things (IoT) are changing the way enterprises do business. As enterprises make inroads into newer markets, they need to meet rising customer demand with quick delivery and superior experience. Considering that speed-to-market is critical to success, your business needs the right processes, tools, and skills for agile delivery and market-leading quality. This is where optimal system performance testing, helps your enterprise stay ahead of the curve.
Security Testing
Epicenter Security Testing offers services across the systems development life cycle (SDLC). We introduce shift left approach for security testing to ensure security takes at most attention and security risks are mitigated. Epicenter unique approach for static and dynamic application security testing helps enterprises protect assents from emerging security threats.
Mobility Testing
As smartphone adoption explodes across the globe, consumers want intuitive interfaces and high-performing mobile applications that deliver superior user experiences. Inconsistent quality and poor performance issues can negatively – and sometimes permanently – impact app adoption.
SOA Testing
Our SOA test services can lead to increased agility, better integration and shorter application life cycles. We provide both functional and non-functional testing services as well as middleware consulting and assessment.
Service Virtualization
Our consultative approach to service virtualization helps to validate feasibility and proofs of concepts, while identifying cost benefits. We help enterprises create seamless testing between interfaces and become less dependent on unavailable system interfaces leading to higher quality results.
Big Data Testing
Organizations today are struggling to handle copious amounts of information, or Big Data, flooding in from various sources such as social media, web logs, emails, etc. While it poses immense challenges, it also holds untold opportunities. To leverage the power of Big Data, information technology (IT) organizations need effective solutions. As IT becomes more data-intensive, Big Data solutions can track and analyze data for meaningful insights that assist in strategic business decisions.
DevOps Testing
Quality and Speed both are equally important in today's world for businesses to stay successful. To assure both, leading organizations leverage the increasing synergy between development teams and operations teams through an integrated DevOps model. The adoption of a DevOps culture and the tools and practices that comprise DevOps is being driven by the need for continuous collaboration and delivery.
API Testing
Application programming interfaces (APIs) have existed ever since application integration has taken life. As architectural paradigms and delivery methodologies evolve, APIs too have transformed to become repackaged, productized services that are easy-to-use. Quality of APIs has become paramount to the success of digital transformation within an enterprise. This has made QA organizations rethink their testing strategies. Testers are being challenged to scale their skills, approaches, and tools to deliver better and faster solutions to realize the business outcomes that APIs promise. We have a comprehensive set of offerings to address these challenges and make this transformation a reality.
Testing for Internet-of-Things (IoT)
Internet-of-Things (IoT) is enabling enterprises to build various connected and smart applications and strengthen multiple dimensions of customer engagement and retention. Building and deploying IoT- based solutions pose multiple challenges to enterprises because of the complex integration between hardware and software in a single system, support for 4Vs (volume, velocity, variety, and veracity) of data flow across the system, and potential security threats around the system. We have developed a comprehensive QA strategy to handle these unique requirements and offer services around device compatibility and interoperability testing, system performance, security, and user experience testing, which are further optimized through extreme automation.
SAP Testing
Epicenter SAP Testing service offers services across the lifecycle of SAP transformation programs, implementation, rollout, upgrade, production support and maintenance. As a trusted partner, we leverage industry-leading testing methodologies to provide our clients with business-driven testing services. Our gamut of services include unit testing, system testing, system integration testing, regression testing, performance testing, UAT support, and automation testing.
Digital Assurance
Testing the digital dimensions of a business is not limited to one application or an integration of a few. Digital testing must ensure superior and seamless customer experience across channels and devices. Epicenter Digital Assurance solution addresses the multifaceted needs of digital transformation testing.
Automation testing
In today's world, businesses that embrace new technology trends possess a strategic advantage to innovate and deliver solutions to their customers with greater agility. Enterprises should be highly tuned in to the market needs and quick to adapt dynamic changes in their business environments. Owing to the rising need for extreme automation, quality assurance (QA) services are saddled with complex demands from application development, maintenance, and release management. They want radical alternatives that are cost-effective, automated, and resource-efficient. Our end-to-end test automation services enable you to define and build enterprise test automation frameworks, implement test automation frameworks, migrate test automation tools and script automated test scripts.
Testing Center Of Excellence
Epicenter Testing Center of Excellence (TCoE) solution is a robust framework that enables enterprises to establish strong quality processes. It comprises strategic assets (people, process and technology) tied together to realize the vision of a centralized quality organization.
Want to know about our Humanizing Digital approach?